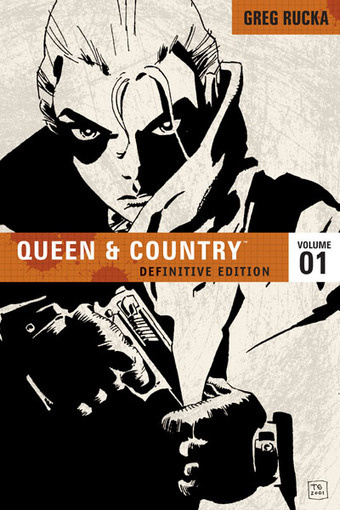 Tara Chace is the number two minder in the SIS, she is deadly with a weapon, extremely intelligent, and a bit of a hard ass. That's not to say that she doesn't have her issues, it seems that she's become so focused on work that her personal life is taking a nose dive. She has issues with sleeping and alcohol, and her therapist believes that the job is slowly killing her off inside.
I read the "Definitive Edition," which means that I got the first three volumes in one go.
"Operation: Broken Ground" - Illustrated by Steve Rolston
As a favor to the CIA, Tara is sent to assassinate a weapons dealer. While she completes the mission, she is almost captured and the terrorists deduce who she worked for. They retaliate, but end up killing the wrong people. The assassins soon focus in on Tara and her bureau is not prepared to back her up.
"Operation: Morningstar" - Illustrated by Hurtt, Brian; Bryan Lee O'Malley; and Christine Norrie
After the disaster of Broken Ground, Tara feels a bit lost. She questions what she is fighting for and is losing sleep and drinking more, she is ordered to see a therapist for evaluation. During this time of self-doubt an informant is executed in Afghanistan. Minders one and three are sent to find any information he left behind before hundreds are killed, while Tara is left adrift and feeling inadequate and in need of purpose.
"Operation: Crystal Ball" - Illustrated by Leandro Fernandez
SIS is informed that someone has volunteered information on a terrorist attack right after Sept. 11, 2001; Tara is sent to question him and discovers that there's a plan to use biological chemicals on an unknown event. SIS is left scrambling with not a lot to go on and this is especially true when the relationship between Tara and minder three is complicated when they start sleeping together and no one approves.
As attested by Arianna, we have been reading a lot of graphic novels lately. This is actually the first that I delved into when we started this project.
Queen and Country
is the brain child of Greg Rucka and won the Eisner Award for best new series in 2001. I enjoyed this series. The psychology of working in such a high-stress place, the bureaucracy of the SIS, the relationships between people working and personally - it's so realistic and gritty and the plot line is just overall awesome! There's just a depth to it that you don't expect and it continues to surprise you with its perspective.
Here's my one issue, and it's not huge but worth noting I think. The artwork. Not all the artwork just the stuff in volume three. Each volume is done by different illustrators and that's fine, I get that. There's a nice little chart at the beginning of each to make sure that you know which character is which. I really enjoyed the first volume. It wasn't bogged down with exposition and assumed that its readers were intelligent which I appreciated. The artwork wasn't my favorite, but it wasn't bad either. Volume two was AMAZING! The plot line, character-building, and artwork all melded together to make something supreme. My favorite thus far. The third one was a bit of a disappointment. All of a sudden I got these visually overly sexualized characters. Tara Chace's boobs grew like five times and her waist was the size of a toothpick! Ew. It was distracting and for me at least undermined the the tone of the book. I preferred the grittiness of the previous books to the sharp sexy lines of the third. But that's it, my only complaint. The series finished in 2007. Read it, good times.