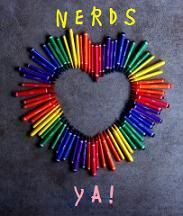 Anna and I had no trouble deciding between
A Love Story Starring My Dead Best Friend
and
Summer Song
. We both LOVED
Love Story
, and were disappointed with
Summer Song
.
Summer Song
told the story of a romance between two boys, but almost exclusive focused on their sexual relationship. While I certainly see the value in depicting a realistic and honest sexual relationship between two boys, I wanted more than just that. There was little plot outside of them meeting and then beginning their relationship.
Love Story
also told the story of a romantic relationship, this one between two girls, but there was so much more depth to it. The characters were complex, and there was much more to the story then just their romance. It dealt with love and loss, forgiveness and hope.
A Love Story Starring My Dead Best Friend
moves on to the second round! I hope it makes it to the finals!