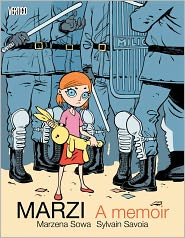 Marzi was born in Poland in 1979. For the first ten years of her life, Marzi grows up under Communist rule. Waiting in long lines for food is the norm, and Marzi doesn't really understand why things are the way they are. She can tell the adults are unhappy, but no one will bother to explain what's really going on.
This was excellent. The story is told through a series of vignettes. Marzi recalls many different events from her childhood, and they all blend together to give us an excellent picture of what life was like. The confusion of a child is perfectly captured, as Marzi struggles to understand what is going on in her country and what her parents are talking about. Marzi is draw with huge eyes, which reflects her innocent understanding of everything that's happening.
Aside from what's happening politically, we see Marzi's difficult relationship with her mother, and what was expected of children in Poland during the 80s. It was so interesting for me, because Marzi is only a few years older than I am. As I was reading about her standing on lines for food with her parents, wishing for color television, working on farms with her grandparents and chewing window putty because she couldn't get gum, I was thinking about my childhood in the 80s in the United States and how incredibly different it was.
Marzi notes that no one really talks about the fall of Communism in Poland, because it was done quietly. There was no dramatic breaking down of a wall. But it was the first. I love how the stories are seen through a child's eyes, but the voice is of older Marzi looking back and remembering. So there was a mixture of innocence and wisdom.
Since I had an ARC, it wasn't finished being inked, so only the first few pages were in color. Having the illustrations in black, white and gray certainly gave the stories a certain feel. I'd like to read it again when it comes out in full color. Will it make things feel less desperate and lonely? It was kind of effective like that actually.
I didn't want the story to end. At the end, Marzi is only 10, and Poland still has a long way to go to being completely free. Tell us more!
Marzi
will be available October 25.