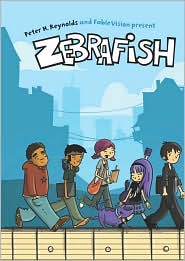 A rockstar wannabe, sensitive artist, panda activist, and two gamers, have come together to start a band. Too bad only one of them actually knows how to play a real instrument. But as they get to know each other, their friendship takes a different spin and they decide to take all of their various talents and work for a larger cause.
When I first picked this up I thought it was going to be a trite little story about a couple of kids starting a band. And in some ways it was, but as you continue to read there are different themes coming into play. Activism, death, grief, sickness, and also taking control of elements that you can affect. Powerful stuff for a middle school student to come across.
A kid could get as much or as little as they wanted out of it, but at the end I think you left with an unalienable belief that there is potential in everyone to be a part of something more. Which makes sense considering that Peter Reynolds wrote this with an agenda. A good agenda, but an ulterior plan nonetheless - let kids know they can make a difference. Generally I feel like books that are supposed to encourage kids come off a bit preachy and are generally poorly written, but this was well done. The message wasn't subtle but it also wasn't bashing you over the head. I'm guessing it's because
Peter Reynolds
writes a lot of books with a feel-good message, that and he founded
FableVision
which is dedicated to "helping all learners discover their true potential." Good deal.
Solid - if a bit overdone - storyline, nice characters, well-played message.