Last year the Klatch started almost 15 minutes late, and the authors had five minutes at the table. This year things ran much more smoothly, and authors had less time at the tables but it allowed us to talk to many more authors. I liked the shorter amount of time, actually. I thought things ran very well this year.
Both of Me
will be out in December 2014.
Both of Me
tells the story of a young man who has multiple personalities. Friesen has also previously written a book with a character with Tourette's. I asked why he chose to focus on characters with mental health issues. Friesen has Tourette's himself, and said he felt the YA world was lacking books with characters with mental illnesses. Mental illness still has such a stigma around it, and he felt it was important to write these stories.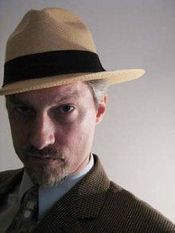 Matt Dembicki is a comics creator whose newest book is one he edited and contributed to called
Wild Ocean
. It's an anthology of 12 stories each focusing on a different endangered sea creature.
Firstborn
takes place in a dystopian world where first born children must either be male, or if they are female, must die or take on the role of a male for life. Grover got the idea for this story from the deaths of baby girls in China. She also told us about
Hit
, about a girl who is hit by a car driven by the teacher she had a crush on, and putting her life back together afterwards. Lorie Ann Grover used to be a ballet dancer, but she grew too tall. Apparently her partner would have had to be 6'7", and there weren't a lot of 6'7" male ballet dancers.
Hazardous Tales
series. Each book tells the story of a historical event. The newest one is
Treaties, Trenches, Mud, and Blood
which is about World War I. He gave us a fabulous visual presentation using his iPad where we learned all about the various hats of WWI. You see, when the war started, everyone was wearing soft hats. They quickly found out that soft hats weren't very effective with a war that now involved shelling each other across trenches and things raining down on your head. All the hat stuff isn't actually in the book, Hale just learned it while researching. I wish I had video taped it. It was hysterical.
To All the Boys I've Loved Before
, which looks really cute. A girl writes love letters to all her crushes over the years, but never sends them. Then her letters get mailed! Horror! There will be a sequel called
P.S. I Still Love You
coming out in Spring 2015.
Undivided
, the final book in the
Unwind
series. It comes out October 14, 2014. Also coming out in the Fall will be
Challenger Deep
, which is about teen mental illness. It was great to hear that YA authors are starting to tackle this issue more!
Rumble
, will be coming out this August. It's about a boy who's an atheist who is dating a girl who's very religious. I'm quite interested to read this one. I can't think of a whole lot of YA books that look at religion. Religion is a very touchy topic. I'm interested to see what
Rumble
is about.
Frank Einstein
, the story of a boy science genius. Each book in the series will tackle a different area of science. The first book, out in August, looks at matter.
ttyl
in
YOLO
. The girls are now in their freshman year of college. Myracle said she wrote these books because girls wanted books were girls talked about regular things. Like sex, for instance.
A Thousand Pieces of You
, out in November 2014. I can't even begin to summarize it because it sounds crazy complex and amazing. But it involves alternate dimensions and murder. So look for it.
The League of Seven
, out in August. It's middle grade steampunk and I thought it sounded awesome. I was able to get an ACR later on and I'm looking forward to reading it.